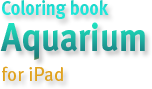 Coloring book Aquarium for iPad
Plunge into the world of the sea bosom with a new coloring book "Aquarium"! 30 pictures featuring the diversity of underwater world are adapted for very small children and are ready to color. Wonderful aquariums, great variety of fish and picturesque plots are created for your little ones for them to have a free play to their fancy and creation.

▪ two paint modes: "filling" or "brush", you may choose the size of the brush
▪ possibility to cancel the last step
▪ possibility to save the picture and carry on coloring it later
▪ possibility to save in "Your pictures" and in iPad "Photo album"
▪ possibility to create your own picture and then color it

Our application gives your opportunity not only to color the pictures that are already created but also create your own ones, thus develop your children's abilities.